Chev Bolt
Posted on October 12, 2022
Benefits of EVs
Zero emissions

Government grants may be offered and EVs may be eligible for tax benefits or subsidies

Electric vehicles are silent due to the absence of moving parts
Electric vehicles have quick acceleration due to the high torque available from the get-go
Low maintenance and less frequent service intervals
Low running costs
You can charge electric cars at home and leave with 100% available range
Lower cost per mile compared to gasoline powered cars
Overview
This quirky and fun hatchback is practical and budget-friendly; it has been given an interior and exterior face-lift from the 2022 model. The five-seater has an impressive range of over 400 kilometres on a fully charged battery and has excellent cargo space. There are loads of standard safety features and extra additions, such as 360-degree cameras. Infotainment technology is excellent. It allows for over-the-air updates, including apps compatible with Amazon Alexa and Spotify. The Bolt EV is available in one trim with a retail price of $38,198.
Power and Performance
This electric Chevrolet is powered by a 60kWh lithium battery, which gives the Bolt 200 HP and has a range of around 417 kilometres on a full charge. The car is fast on acceleration going from 0 to 100 kilometres in 6.5 seconds. Efficiency is 1.9L/100km for in-city driving and 2.2L/100km for highway driving, which is very good. The one-pedal driving can be activated via a button on the centre console, increasing regenerative braking.
Battery Life and Charging
A level 2 charger will charge the 60kWh battery in seven hours. A DC fast charge will give you up to 160 kilometres range with a 30-minute charge. The Canadian government has an "Incentives for Zero-Emission Vehicles Program". The Chevy Bolt qualifies for this incentive for up to $5,000 on a purchase or a 48-month lease. General Motors also covers the installation of a Level 2 home charger for first-time buyers, through Qmerit.
Interior and Comfort
The Bolt EV's interior has more soft-touch surfaces with a better and improved design, like a new 20cm gauge display. The car comfortably accommodates five passengers. Cargo capacity is 470L, which can be increased to 1,614L if you fold down the rear seats. For an extra amount, you can opt for heated leather on the seats instead of cloth and add a heated steering wheel. This would be a worthwhile investment for those cold Canadian winters.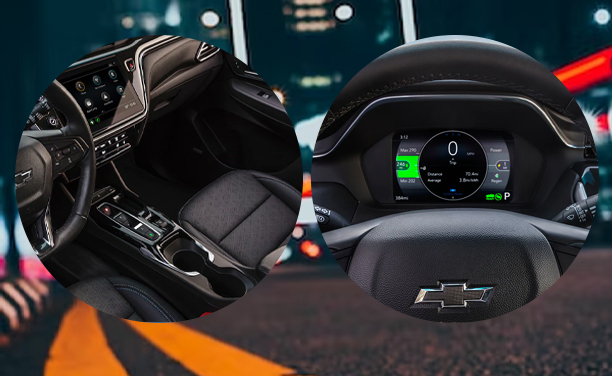 Infotainment and Connectivity
This hatchback comes with standard navigation on a 25.9 cm touchscreen with voice activation so you can focus on driving. The Chevrolet Infotainment 3 System has compatibility with Apple Carplay, Android Auto and Bluetooth connectivity. There is also satellite radio and in-car WiFi.
Safety and Driver Assistance Features
The car has 10 airbags, including a side curtain and knee airbags. The car received an overall crash test rating of 5.00. Driver-assist features, such as the anti-collision system, blind spot monitor and rear cross-traffic alert, are standard on all trims. A 360-degree camera is an option worth investing in, especially considering how affordable the car is anyway.

Conclusion
The first Chevy Bolt was released in 2016; since then, it has evolved and improved to the fully electric 2023 Chevy Bolt we now have. We applaud Chevrolet for its innovation and ingenuity on this latest hatchback offering. It's packed with features and has excellent design and driving range. Get to your nearest GM dealership and test drive it for yourself.