Cadillac Lyriq
Posted on October 12, 2022
2023 Cadillac Lyriq
It's the first electric vehicle from the team at General Motors; it's agile, responsive and beautiful. With dual-motor power, you can drive further than expected. The Cadillac Lyric has top-notch technology, innovative safety features and luxurious interiors. This car is bound to appeal to all kinds of discerning customers.
Benefits of EVs
Zero emissions

Government grants may be offered and EVs may be eligible for tax benefits or subsidies

Electric vehicles are silent due to the absence of moving parts
Electric vehicles have quick acceleration due to the high torque available from the get-go
Low maintenance and less frequent service intervals
Low running costs
You can charge electric cars at home and leave with 100% available range
Lower cost per mile compared to gasoline powered cars
Overview Power and Performance
The midsize SUV is a five-passenger rear-wheel drive (RWD) with a 100kW battery and one electric motor that powers the rear wheels. The combination gives the car 340 horsepower and an EPA, or an estimated 502 kilometres of driving range for the RWD. The SUV is very responsive and fast, reaching speeds of roughly 189 kilometres per hour. It also takes 5.7 seconds to go from 0 to 100 kilometres. The car's towing capacity is roughly 1,588kg, which is fair for a car in its category.

Driver selector mode allows you to adapt to changing conditions on the road. Tour, Snow/Ice, Sport and My Mode are available modes. The five-link-suspension system gives you a smooth driving experience and tight handling.
Interior and Comfort
True to form, the cabin of this Cadillac is a luxurious mix of wood, leather and metal. There is plenty of legroom, and the cabin comfortably seats five people. The interior colour is a cool grey; there are also backlit door panels. There is plenty of storage space behind the seats and underfloor storage where you can store charging cords and other small items.
Infotainment and Connectivity
There is an 83cm display screen across the dashboard for the driver's use with the addition of over-the-air updates. The Cadillac is genuinely hands-free for communication and navigation. The entertainment system is compatible with wireless Apple CarPlay and Android Auto.
Battery Life and Charging
The Cadillac Lyriq has a 100kW Ultium battery and a 19.2kW onboard charger. When charging on a level 2 home charger, you add 83 kilometres of range per hour. If you use a public station DC fast charging, expect to get 122 kilometr5es of range in 10 minutes. Since the Cadillac's retail price range is below $70,000, buyers won't have federal or provincial rebates. Cadillac offers charging incentives, such as two years of free charging with Evgo or $1,500 for the cost of home-charging installation.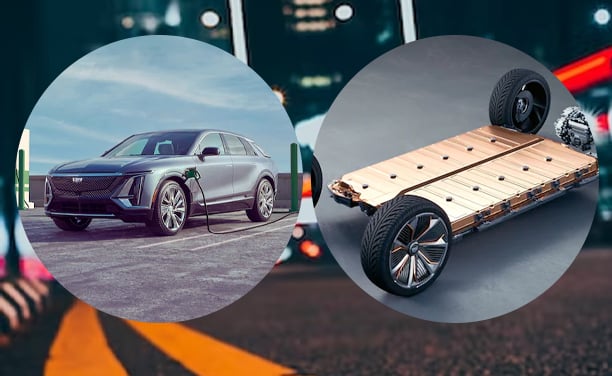 Price
The new all-electric Cadillac Lyriq retail price starts at $67,698. The Lyriq comes in just one trim level, the Luxury trim.
Safety and Driver Assistance Features
Adaptive cruise control, blind zone steering assist and side bicycle alert all come standard on the 2023 Cadillac Lyriq. The rear camera with a washer is only standard on the RWD option, and the Cadillac automatic emergency braking is replaced by enhanced automatic emergency braking. Rear park assist comes with a high-definition rear camera, putting you at ease when reversing or parallel parking.

Conclusion
As we all move to using greener fuels and reducing our carbon footprint, this Cadillac Lyriq is the best way to do that without compromising comfort, luxury and excellent driving power. The Myers Auto Group will have the Cadillac Lyriq to suit you. As more information becomes available, we'll update this article with more details about the All-Wheel Driving range and Battery Warranty.