Hyundai Ioniq 5
Posted on October 12, 2022
Hyundai Ioniq 5
The future is here with the Hyundai IONIQ 5.  Hyundai took the time to design this one with the latest technology, and we can safely say this is one of the best vehicles in the EV series. This vehicle has all-wheel drive, super fast charging abilities, and augmented reality.
Benefits of EVs
Zero emissions

Government grants may be offered and EVs may be eligible for tax benefits or subsidies

Electric vehicles are silent due to the absence of moving parts
Electric vehicles have quick acceleration due to the high torque available from the get-go
Low maintenance and less frequent service intervals
Low running costs
You can charge electric cars at home and leave with 100% available range
Lower cost per mile compared to gasoline powered cars
Overview
Price: $47 650

Horsepower: 168

Battery charging time: 0 to  80% in 18mins

0 to 100km:  5.1 seconds

Range:  488km
Power and Performance
Super fast and very capable is what the IONIQ 5 is in your hands. The Hyundai IONIQ 5 will get you anywhere in a flash with its unique sports car acceleration capabilities going from 0 to 100 in just 5.1 seconds. 

The IONIQ 5 has an AWD with Snow Mode and Battery Temperature Management System to help when driving in those Canadian winters. The heat pump system also helps to reduce the loss of electric driving range in cold winter weather. 
Interior & Comfort
The IONIQ 5 EV has an interior to die for. It has a spacious interior with front seats, a sliding centre console, and slides back to allow passengers flexibility and comfort when entering and exiting the vehicle. The console comes with Cup holders, a 15-watt fast wireless smartphone charger, and USB ports.
Exterior
The exterior has bold lines and an aerodynamic design. The vehicle also comes in a range of electric colours to select from. The IONIQ 5 also has 20-inch alloy wheels, LED headlights,  LED taillights and LED daytime running lights.
Interior and comfort
The IONIQ 5's interior is spacious. The vehicle comes with an augmented reality head-up display. This means your windshield can be turned into a digital screen. 

With the IONIQ 5, the digital gauge cluster eliminates the traditional dashboard style giving it a modern interior look. The vehicle also has ventilated front seats,  a vision sunroof,  a heated steering wheel,  heated front and rear seats,  and a driver relaxation seat.
Technology, Infotainment and Connectivity
The IONIQ 5 Has integrated both analogue and digital technologies to bring you some exciting features.

It has Vehicle to Load (V2L) through bi-directional charging. This simply means that the vehicle can be used as a power source. So if you do not have any power, the IONIQ 5 can run your home appliances and charge your laptops and phones.

It also has a responsive high-definition 12.3-inch touch screen, a navigation system, and a premium sound to listen to your favourite playlist.

The remote intelligent parking assist feature is another excellent piece of technology which allows you as a driver to pull out of those tight parking spaces by simply using the key outside the vehicle. It will drive itself in and out of tight parking spaces. 

The surround view monitor also gives multiple views of your surroundings when parking.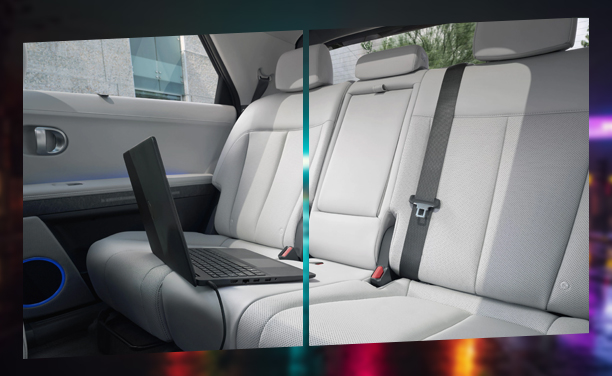 Cargo space
The rear seats of the vehicle fold down to create more space for luggage.
Charging
You can quickly charge the vehicle by Simply plugging it in like you would your smartphone. If you're using the 350 kW DC ultra-rapid charger, IONIQ 5 Moves from 10 to 80% in 18 minutes. If you're in a hurry, a 5-minute charge gives you a 100 km range.
Safety and Driver Assistance Features
Hyundai smart sense is a safety feature with a camera,  motion and radar detection technologies to provide you with more safety.

The superstructure is a state-of-the-art platform built with advanced high-strength steel to deliver stiffness and strength. In a collision, the superstructure helps protect the vehicle's occupants by absorbing all the harm and redirecting it from the passengers.

Conclusion
As more information becomes available, we'll update this article with more details about Fuel Economy, Warranty and Maintenance.