Nissan Leaf
Posted on October 12, 2022
Nissan Leaf
The Nissan Leaf is one of the first no-emission fully-electrified vehicles introduced to environmentally conscious drivers. In 2023 the Leaf will continue its popularity as an affordable EV hatchback with many attractive standard features that offer a smooth and quiet driving experience. 

The exact pricing of the 2023 hasn't been released yet. However, the Manufacturer Suggested Retail Price (MSRP) is from $29,000 upwards. As information becomes available, we'll update this article with more details on exact pricing. 

The Leaf S will have a 40-kWh battery pack (147 horsepower, 239.8km range), and the SV Plus will have a 62-kWh battery pack (214 horsepower, 346km range). Both models have a 110-kW electric motor. Under controlled conditions, the S reached 100km/h within a very decent 7.4 seconds on a test track. This hatchback can also tow a maximum of 972 pounds.

An added advantage when purchasing the Leaf is that Nissan will give you a 160,000km or eight years warranty on the vehicle's battery. Nissan also provides the same coverage for maintenance. You'll also receive rebates from the government as a gesture to thank you for your help in saving the environment. In Quebec, you'll get a purchase rebate of $7,000 and a lease rebate of up to $7,000. You can also qualify for a rebate of up to $5,000 based on the iZEV government incentive programme.
Benefits of EVs
Zero emissions

Government grants may be offered and EVs may be eligible for tax benefits or subsidies

Electric vehicles are silent due to the absence of moving parts
Electric vehicles have quick acceleration due to the high torque available from the get-go
Low maintenance and less frequent service intervals
Low running costs
You can charge electric cars at home and leave with 100% available range
Lower cost per mile compared to gasoline powered cars
Overview Power
A 40-kWh battery pack powers the Leaf S, and a 62-kWh battery pack powers the SV Plus.
Performance (EV Motor)
The Leaf's front-wheel drive 110-kW motor delivers 236 pound-feet of torque and 147 horsepower (40-kWh battery pack). The engine will produce more torque at 250 pound-feet and more horsepower at 214 with the larger 62-kWh battery pack. The vehicle does a decent sprint going from zero to 100km/h in just 7.4 seconds.
Towing (and Payload Capacity)
You'll be able to haul and transport a maximum load of 972 pounds.
Range
The Leaf S's battery pack has a 239.8km maximum range, and the SV Plus's battery pack 62-kWh battery pack has a maximum range of 346km. The S has the ability to charge up to 80 percent in just 40 minutes. Charging the SV Plus up to 80 percent can take a total of 60 minutes.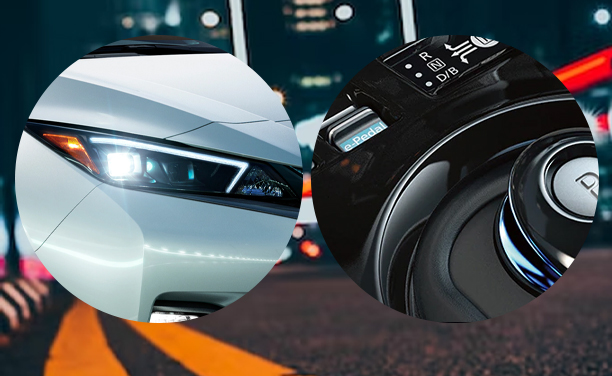 Battery life
The Nissan Leaf battery pack has a lifespan of between eight to 10 years.
Interior, Comfort, and Cargo
With the seats in the upright position, the Leaf has a generous 23.6 cubic feet of interior cargo space. Your passengers will also appreciate the ample 98 cubic feet of space. The cabin is spacious, has very supportive seats, and is shaped to your body. In addition, the electric engine is quiet and extremely smooth. 

The EV engine accelerates as smoothly as butter due to its non-shifting capabilities. The weight of the battery also adds to increased coordination and balance, especially when going around turns and corners.
Infotainment and Connectivity
All Leafs come with a 20.32cm touchscreen, mobile compatibility, a USB port, and a four-speaker sound system. Additional upgrades in the SV Plus include a navigation system, NissanConnect,

Safety and Driver-Assistance Features
You get a profusion of safety driver aid systems: rear-automatic braking, lane-keeping, and departure warning assist blind-spot monitoring with rear-cross traffic alert and blind-spot intervention.