Toyota Mirai
Posted on October 12, 2022
Toyota Mirai
When we talk about beautiful designs, we mean the Toyota Mirai. This sedan has been born straight out of the future with flowing lines and a great appearance that quickly distracts you. It uses a hydrogen-powered propeller system with a zero-emission option that lets you refuel your vehicle in a few minutes instead of waiting at an EV charger.
Benefits of EVs
Zero emissions

Government grants may be offered and EVs may be eligible for tax benefits or subsidies

Electric vehicles are silent due to the absence of moving parts
Electric vehicles have quick acceleration due to the high torque available from the get-go
Low maintenance and less frequent service intervals
Low running costs
You can charge electric cars at home and leave with 100% available range
Lower cost per mile compared to gasoline powered cars
Overview
Starting Price: $54,990

Horse Power: 182

0 to 100km: 9.1secs

Warranty: 36 months or 60,000km

Fuel Efficiency: 3.1L/100km (City) / 3.3L/100km (Highway)

Range: 647km
Power and Performance
The Toyota Mirai is powered by a powertrain with an electric fuel cell which means that hydrogen is converted into electricity by an onboard fuel cell. Electricity is created by the fuel cells by stripping electrons from the hydrogen atoms. Water is then created by hydrogen bonding with oxygen while electrons power the electric motor. 

The Mirai produces 182 horsepower through a one-speed direct-drive transmission to the rear wheels. The Mirai provides you with a range of 647km on a full tank.

 

The Mirai also comes with three drive modes: eco, sport, and normal. Eco improves fuel economy, normal is for more balanced performance, and sport is for a more spirited drive, and all this can be done at the push of a button.
Charging
The beauty of the Mirai is that you don't need a charger like you'd with an EV. Refuelling the Mirai is simple. You put the hydrogen pump in a carbon fibre tank to fill the car through the nozzle. In about five minutes, you're good to go.
Warranty & Coverage
The warranty on a Mirai is 36 months or 60,000km, whichever comes first.
Exterior
Mirai is a bold and responsive vehicle with a lower, longer and wider design set off on standard 48.26cm alloy wheels or 50.8cm super chrome alloy wheels. This vehicle is also aerodynamically engineered to enhance fuel efficiency and deliver a high standard. It also has multi-LED front turn signal lamps, bi-beam headlights, and LED rear tail lights.
Interior, Comfort, and Cargo
The interior of the Mirai is as equally amazing to match the exterior. There's copper-coloured trim that highlights some elements on the dash and door panels to give it some pizzazz. 

The Mirai also has a panoramic view moonroof, heated and ventilated seats, multicolour ambient lighting, and tri-zone automatic climate control. The vehicle has enough room to accommodate five people.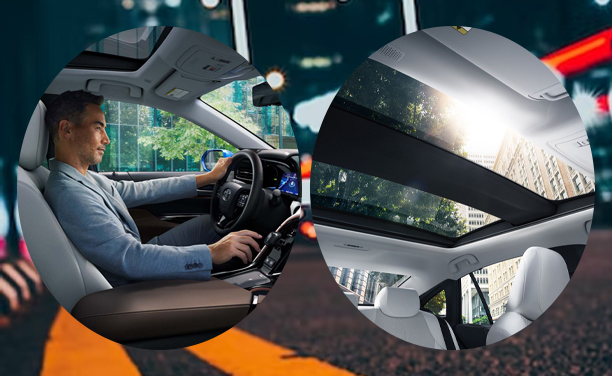 Infotainment and Connectivity
The Mirai comes with a standard 31.24cm touchscreen, Wi-Fi hotspot, SiriusXM satellite radio, JBL audio system, and in-dash navigation. Apple CarPlay and Android Auto come standard.  
Safety and Driver Assistance Features
The Mirai offers standard driver assistance features found in most Toyotas: Adaptive cruise control, lane keeping assist and lane departure warning, and automated emergency braking with pedestrian detection, to name a few.

Conclusion
For now, that's all the information we have. As more information becomes available, we'll update this article with more details about towing capacity, battery warranty, etc. So, check back with us soon!